Food for Thought: Sustainable Sustenance at Westtown
An interview with Director of Dining Services Beth Pellegrino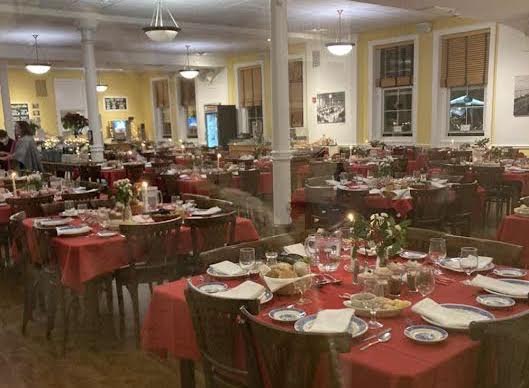 "I can work in a restaurant anywhere, but I come to Westtown because I love the kids!" said Teacher Beth Pellegrino, the director of Dining Services at Westtown School. Pellegrino opened up about how the food goes from the farm to our plates here at Westtown and everything that's involved in the process. 
First, the food is grown from either the farm at Westtown  Pete's Produce, or it comes from Lancaster Farm Fresh, or The Common Market. Lancaster Farm Fresh and The Common Market are a consortium of local farmers and, they combine to a total of over 250 farms that Westtown sources food from in Pennsylvania and the rest of the Mid-Atlantic region. Things like milk, eggs, ground beef, veggies, chicken all come from those farmers, Pellegrino shared. They generally deliver about twice a week. Other things like tomato paste, sugar, flour, etc. are ordered from various food providers around the nation.  
Before the food is ordered, Pellegrino detailed, a menu is created and usually rotates over 3-4 weeks. For example, on chicken finger day, 300-350 pounds of chicken fingers were ordered. All of that food is prepared for Upper School, Middle School, Faculty, and sometimes the Lower School. That is food for about 700 people. That is only for lunch and not counting meals like breakfast or dinner. Although, it's worth noting that those meals don't have as much food prepared. Other things like popularity and attendance are factored into the amount of food that gets made. 
Staff days start as early as 6:30am, and breakfast is served beginning at 7:30. Kitchen staff work all throughout the day up until the end of dinner and repeat the process. With Work Program the kitchen staff gets an assist.
"The fact that we have work program is wonderful, and I never realized how wonderful it was til we didn't have it," Pellegrino said. Over the pandemic when things had to be boxed and cleaned, the absence of Work Program put a huge strain on dining staff. Things like vegetable prep and bakery assistance play a huge role in preparing food for Westtown. Now that we are back on campus at full capacity, Work Program is getting back on track with the help of its heads and Work Program Head, Ryan Castaños.  
When meals are over, where do the leftovers go? According to Pellegrino, we donate our food to CityTeam, in Chester, Pennsylvania. CityTeam is a foundation that helps people in need across the country, and they provide meals as well as other services. Donating our food coupled with compost and recycling makes Westtown a very low waste and sustainable school.