Frozen Out of Time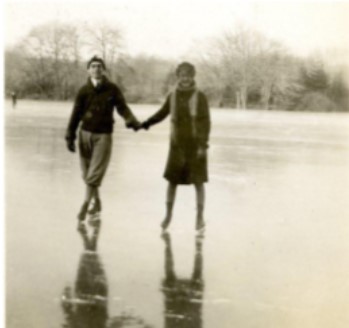 Westtown Lake froze solid this winter for the first time in years, but the administration never allowed students to walk on it,
let alone skate. Why? The lake simply wasn't safe. Westtown Lake has a long history of ice skating and wintertime fun. T. Karen Gallagher, a senior staff member with 40 years at Westtown, stated that for the first ten years or so she worked at Westtown the lake used to freeze thick enough to skate on every single year. Skating events were a tradition. Students would go down to the lake on weekends, and under teacher supervision, an area would be shoveled out for students to play hockey or free skate. A bonfire would sometimes be built, and the lakehouse would be opened. The kitchen would bring down tankards of hot chocolate for students to enjoy. But as the years wore on, the lake froze less and less regularly, and with the disappearance of the ice, these events disappeared as well.
Ice is inherently unsafe because of its variability. The Minnesota Department of Natural Resources ice safety page perhaps sums this up best: "You can't judge the strength of ice just by its appearance, age, thickness, temperature, or whether or not the ice is covered with snow. Strength is based on all these factors." For the school to open the lake they have to be certain the ice is safe. Legal retribution could follow a student falling through the ice. Because of the variability of lake ice, however, it is difficult for the facilities team to be sure of its safety. A member of Westtown's facilities team is assigned to check the ice each winter and will inform the administration if the ice becomes safe for students to walk on. They never gave the all-clear this year. The reason why is clear to see in the state of the lake ice. Although many sections are visibly solid and unmarred, a large section of the middle of the lake is filled with dangerous spring holes. Besides that, the moving water near the dam and the inflow creates thin ice there as well. Because of these two factors, Westtown lake has to freeze very, very thick to be safe.
On a safer lake, a small person in snowshoes could stand on a half-inch of ice. A fully grown person wearing shoes could stand on two inches, although it is ill-advised. Four inches is the universally accepted safety standard for ice thickness, but Westtown lake has to be much thicker than that to be safe. Six to nine inches would be preferable to ensure total ice safety for students, and unfortunately, this year's freeze never got close to that. And now, in late February, it is simply too late. So with an eye on the farmer's almanac, all we can do is hope that next year it will be cold enough to bring ice skating events back to Westtown Lake.