The Snable (shorthand for Snack Table), last year's much-loved respite from study hall, has unfortunately graduated along with the class of 2023. Citing the Senior Class Advisors' claims that the Snable was too much of a hassle and made too many disruptions in study hall, Senior Class Officer Kilan Rougeot-Claes declared that the Snable will not be coming back this year, unfortunately.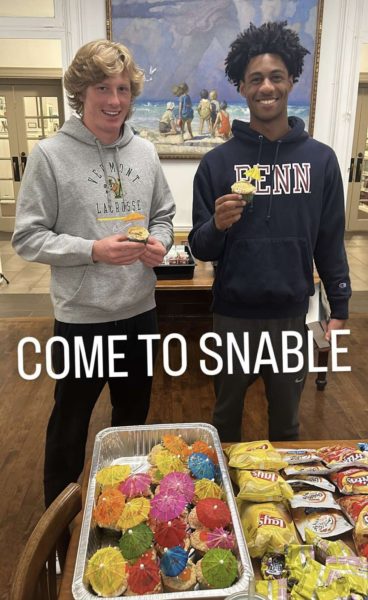 "In a perfect world, we would have the Snable back," Rougeot-Claes said, but ultimately, it's a definitive 'no.'"
So if not the Snable, how will the senior class fundraise for their Dinner Dance and other endeavors? Taking inspiration from last year's sophomores, who made over $1,000 by selling hoodies, the seniors will be selling sweatshirts and (potentially) sweatpants as a preliminary fundraiser to get the ball rolling. 
"It's a big boom in money," Rougeot-Claes said, "It makes everyone happy. It makes the class happy because we have some sick pajama pants and hoodies." 
Responding to concerns that this wouldn't generate sufficient revenue in the long-term, Rougeot-Claes cited budgeting as an effective next step. 
"We are currently visiting venues [for  Dinner Dance]. We're assessing how much money we have, how much we might spend, and how we might raise more money," said Rougeot-Claes. 
When asked about plans for fundraising in the future, Rougeot-Claes noted,  "we have other plans." But unfortunately, he declined to comment further. 
Last year's Snable "averaged around $100 a night," according to 2023 senior class officer Nora Goldbecker. At that rate, the Snable would make more money in less than a month than the sweatshirts likely ever will.
The senior class officers have some big shoes to fill when it comes to fundraising. Without the Snable as a consistent source of income, they'll need to figure out how to best fill that gap – and the student body awaits with bated breath.