Pandemic Pets
In mid March, as it became more apparent that Westtown would finish the semester online, and I would be at home for the rest of the spring and summer, a familiar itch began to materialize for me. As a semi-frequent owner of animals, I have known this sort of insatiable desire for a new furry companion many times. I got my first hamster, a hefty breed called a  teddy bear, when I was 7 or 8. Affectionately named Snickers, this lady hamster was a treat smuggler and became pretty overweight, as far as hamsters go. Disaster struck when her weight broke a tube that connected her cage to a little hamster platform above, and she was lost in the depths of my family's basement. I swear at times I will still hear a quiet chewing or squeaking of the long gone Snickers.
A few months later, I got another hamster, this one named Albert Einstein. It was a tiny white thing, who I felt really embodied the German physicist. Well, after a few weeks Mr. Albert Einstein became Albey, and also became the mother to 11 hamster babies. I was pretty traumatized, but I felt that I did an excellent job of keeping those little guys alive. My first entrepreneurial move came once all the babies were fully grown, when I took them to be sold to the pet shop. (They all found good homes).
Anyway, in mid-March I received that hamster itch again, and on a rainy afternoon, after another boring zoom day, I took myself to the local PetSmart, and came home with a little friend. My hamster, Nutsack, has become a valued buddy during this time. When I get insanely jittery or lose focus in class, I will take him out and play with him, or feed him treats. By the end of the summer, I had grown so fond of him that I said to myself, "You know Arden, you've gotten really good with this small mammal thing." So, after a few sleepless nights of scouring craigslist and the Hoobly classified ads, I found a ferret for adoption. I love my beautiful mischievous ferret, Patti, named after the rockstar, who shares New Jersey as a birth state. So here I am now, happily sharing my room with two rodents, and definitely enjoying it.
I've seen this itch for a new pet in quarantine come out in many people, from neighbors, teachers, classmates and strangers. To investigate this phenomenon, I've opened up the question to the larger Westtown community: Did you get a new pet over quarantine? Below are some remarks and stories from community members.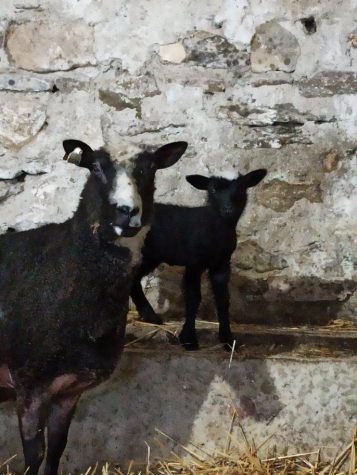 If you've ever seen sophomore, Melanie Flynn, running after her pet sheep on campus, you will be glad to know she helped birth 17 lambs last spring! She welcomes 6 surviving lambs into her flock of now 16 sheep. A fun anecdote from Melanie, " I'm looking for homes for some of my sheep because I have way too many at the moment. I almost had a perfect home where I sent two of my sheep to befriend an alpaca, but then ended running around a neighborhood and getting the cops called on them." I'm thinking my hamster itch might expand to sheep now! 
T. Emily Waller adopted a new kitten friend, who unfortunately had the flu when she was brought home (the kitten, not T Emily). Although Penelope, the new kitten, bounced back quickly, T. Emily's two other cats caught the sniffles 🙁
T. Adam Salo brought home a new dog, Pickles, to join his family!
T. Kirristie Wills welcomed a new Poodle/Doberman puppy, a Dobiedoodle!
Zanzi Gunton, class of 2021, has welcomed a gecko who loves to pretend Zanzi's fingers are worms.